BIRTHDAY
The Perfect Guide: Birthday Flowers
Wednesday, May 26, 2021
People have been exchanging flowers for hundreds of years. This tradition dates right back to the Romans and Ancient Greeks. And there is a reason why it has stuck around!
Nowadays, birthday flowers are a great way to acknowledge someone's special day and let you know that you are thinking of them. In fact, every year, people around the world spend $34.3 billion on flowers to celebrate birthdays, Valentine's Day, and other anniversaries.
There are also more birthday flower delivery options available now than ever before. So how do you choose the right bouquet to send to your loved ones with their birthday gifts? Read on to find out everything you need to know about sending birthday flowers and how to choose the perfect bouquet.
Different Ways to Send Birthday Flowers
When it comes to sending flowers to your loved ones, there are a couple of options available. Of course, you could pick up a bouquet and deliver it in person. However, this depends a lot on you living close by or having the time to travel. If this isn't an option for you, you could get in touch with a local florist. Some florists do deliveries to local addresses and will help you put together a bouquet. That said, ordering flowers over the phone and without pictures can be very difficult.
Often a local florist will have limited stock at any given time. This is why online flower delivery services have become more popular in recent years. These are specialist websites that let you select bouquets for delivery on a specific date. They usually have a range of different flowers, arrangements, and potted plants, so you can find one to suit you. On top of this, most delivery websites offer additional gifts and gift cards to let you personalize your bouquet. This means that you can send your flowers with a heartfelt message.
Why Are Birthday Flowers so Popular?
Taking the time to send someone flowers is a great way to show them that you care and think of them. This is the perfect complement to your birthday gift idea. After all, it demonstrates that you've taken time out of your day to do something nice for them. On top of this, they remain a symbol of this love. Every time someone looks at their flowers, they will think of you and the love you've shown. Not to mention, a beautiful bouquet will brighten up any room! Being around flowers also improves a person's emotional health.
Some of their benefits include:
Immediately boosting feelings of happiness
Boosting relaxation
Improving memory and concentration
So they really are the gifts that keep on giving! One of the best things about sending birthday flowers, however, is how personal you can make your bouquet. Let's look at some of our top tips for choosing birthday flowers and our advice for sending them.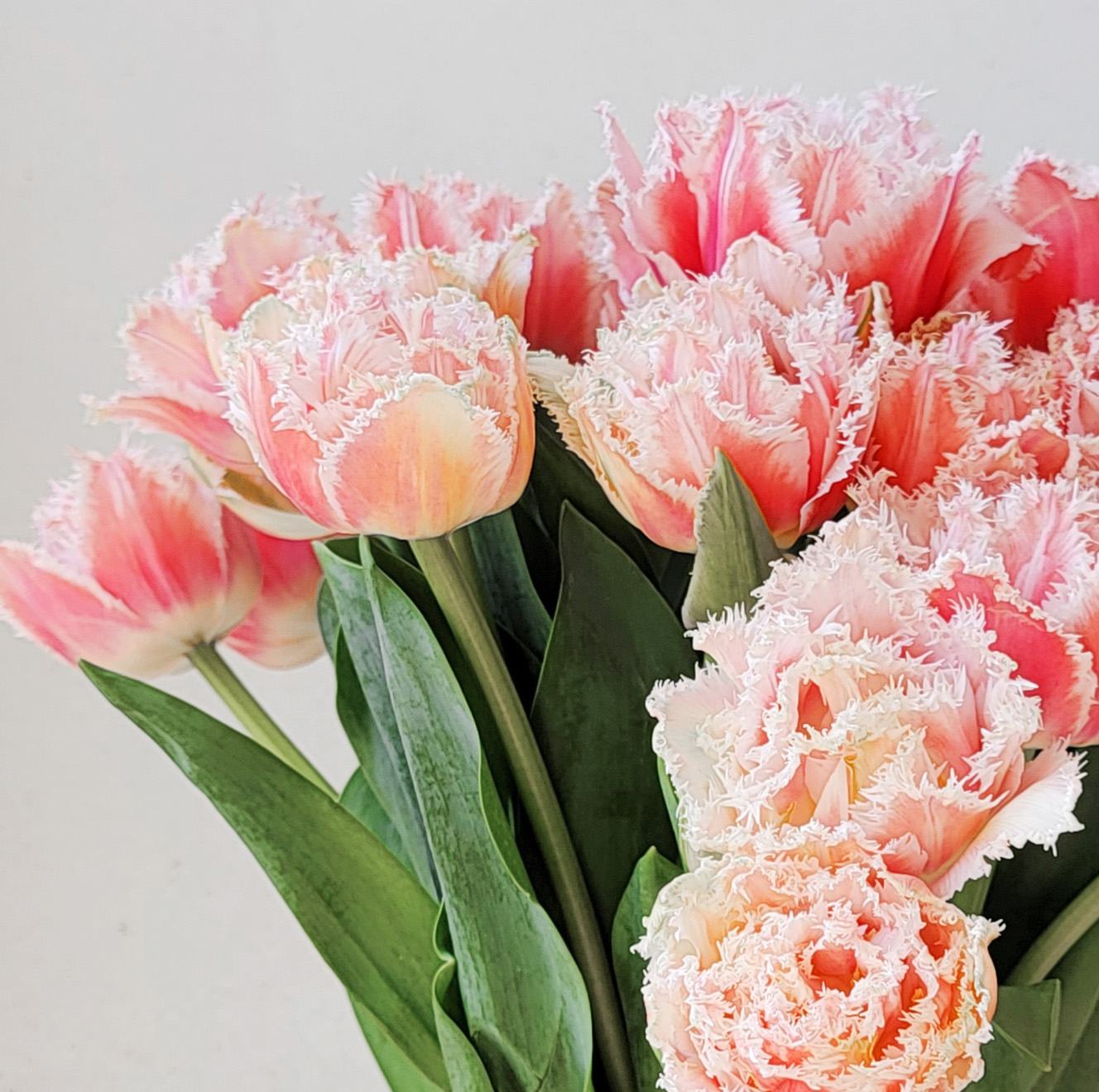 Find Out Their Favorite Types of Flowers
Finding out someone's favorite flowers is the first place to start when choosing a bouquet for them. You could put together a whole bouquet of these flowers or use them as a base for a more complex look. You don't want it to be too obvious that you're trying to find out their favorite flower.
This might take some investigating such as:
Asking other friends or family members which flowers they like
Trying to remember which types of flowers you have seen in their house before
Looking at photos of flower arrangements from special occasions
Checking out what they have planted in their garden if they have one
This can all give you a good idea of what someone likes (and, more importantly, doesn't like!)
Look for a Personal Angle
Knowing your loved one's favorite flower isn't the only way to put a personal twist on their birthday bouquet. You can also choose flowers that have specific personal significance for them. There are lots of ways that you can do this.
For example, if you are buying flowers for your spouse, why not choose the same arrangements you had at your wedding? Or if you are buying for a sibling, picking a native flower to your home town can be a lovely touch. This lets you acknowledge something special to your relationship with a person. It can also take them on a heartfelt journey down memory lane.
Choose a Color-Scheme for Your Birthday Flowers Bouquet
Studies show that blue is by far the most popular favorite color in America. However, this doesn't mean that it is the right choice for your friend. Going for a color scheme that they like will immediately make their bouquet more personal. It also means that their flowers will suit the aesthetic of their home. If someone has a neutral color scheme in their home, you will have a broader range of color schemes to choose from.
Going for something striking, such as red or yellow, will contrast with neutral tones. If they have more distinctive colors in their home, try to go for something that will match or vividly contrast. A slight change in colors will look off-balance. For example, if someone has orange wallpaper in their home, you don't want to opt for a red flower arrangement. However, what is most important is choosing something that you think your friend will like. This might mean choosing flowers that you wouldn't ordinarily go for. Just try to remember, it's for their home, not yours!

Think About the Meaning Behind Them
Historically, people gave flowers to one another to convey some message. More often than not, this was an emotional exchange of love or support. This means that most flowers have a specific historical meaning. Even their colors can have an impact on their meaning. For example, light red carnations symbolize admiration, while white carnations symbolize love and luck. On someone's birthday, you might want to send flowers that symbolize a loving connection.
These include:
Red roses for enduring passion
Dahlias for a lasting bond or commitment
Tulips in particular red tulips for true love
Red camellias
Lady's Mantle
Carnations particularly reds, whites, and pinks
Freesias
Peruvian lilies
Stocks
Of course, this also means that there are some flowers worth avoiding in a birthday bouquet. The following flowers are associated with remembrance, sorry, sympathy, and loss:
Poppies
White stargazer lilies
Statices
Purple hyacinths
White tulips
While not everyone will understand the meanings behind these flowers, it's a lovely way to put a hidden message inside your bouquet. For flower enthusiasts, this will be an extra special touch.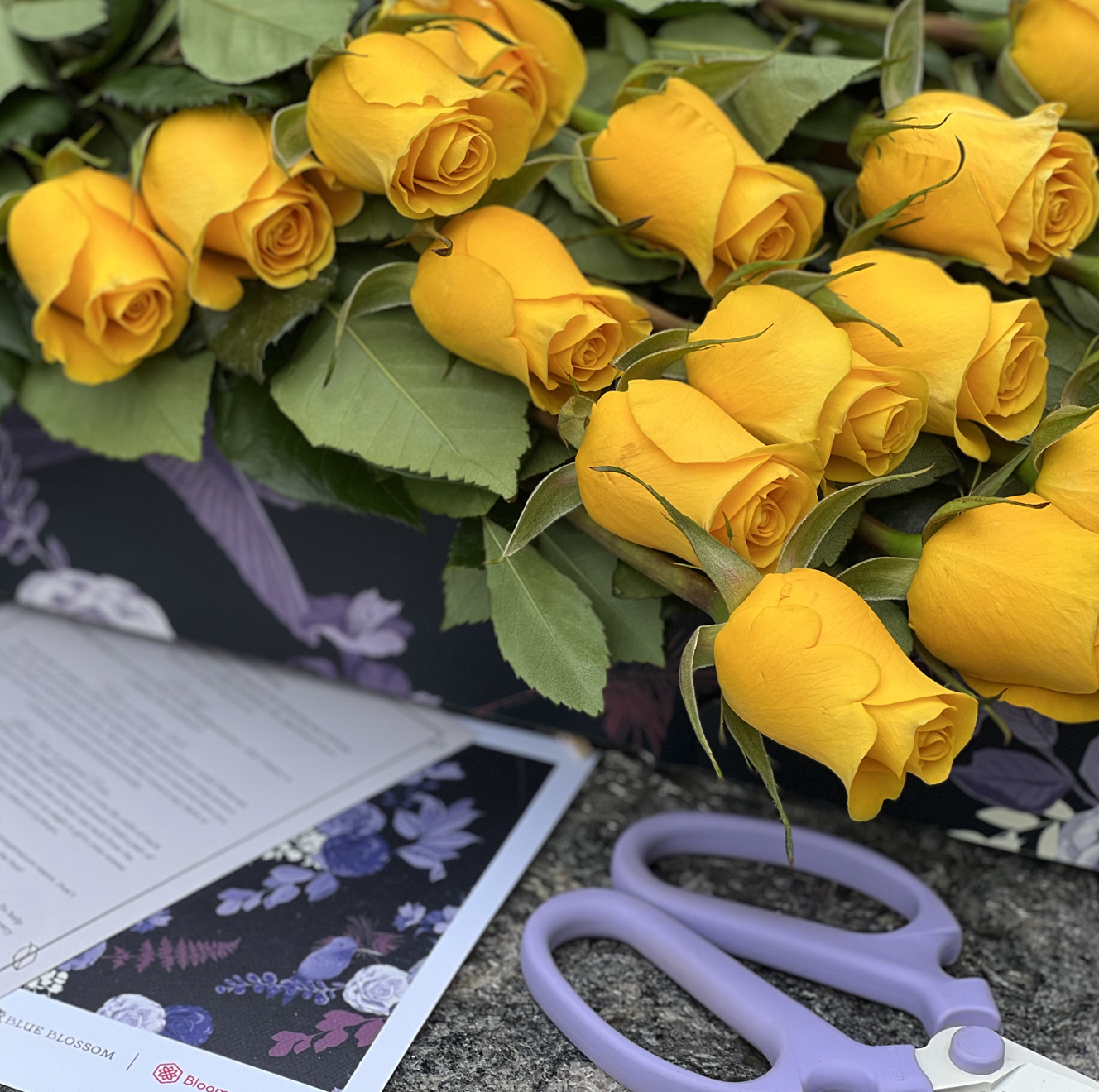 Check Out Their Birth-Month Flower
If you are sending flowers for a birthday, you might want to look at each month's birth flowers. These are often flowers that are seasonal to your loved one's birthday.
Each month's birth flowers are as follows:
January: Carnations and snowdrops
February: Violets and primroses
March: Daffodils and jonquils
April: Daisies and sweet peas
May: Lilies of the valley and hawthorns
June: Roses and honeysuckle
July: Larkspurs and waterlilies
August: Gladiolus and poppies
September: Aster and morning glory
October: Marigolds and cosmos
November: Chrysanthemums
December: Narcissus and holly
Of course, if you know that your friend or loved one doesn't like their birth month flower, it's best to avoid it. But this is a great way to add an extra little personal touch and might even teach them something about their birthdate.
Opt for Flowery Birthday Gifts That Will Last
A bunch of flowers is at its most impressive when it is in full bloom. However, once the buds have bloomed, your bouquet may be well on its way to wilting. This is because cut flowers have a limited shelf life. Because of this, it is important to get your flowers from a company that will do everything to ensure the best possible shelf life.
This might include:
Sending flowers while they are still in the bud (so they bloom at home)
Sending special plant feed and care instructions
Sending flowers that have been freshly cut and ensuring a quick delivery window
Using packaging that will keep your flowers fresh for as long as possible
A flower delivery bouquet should last for at least a week if it is cared for properly.
Always Send a Card
Receiving flowers is a wonderful treat, and your loved one will want to know who sent them. That way, they can say thank you! Even if you have already sent them a birthday card, make sure you request a note with your flowers. This can avoid a lot of confusion, especially if they receive more than one bouquet!
Make Sure You Order Your Birthday Flower Delivery in Plenty of Time
Historically, people gave flowers to one another to convey some message. More often than not, this was an emotional exchange of love or support. This means that most flowers have a specific historical meaning. Even their colors can have an impact on their meaning.
Sending flowers to your loved ones is a great way to show them how much you care. However, this can all be undermined if they arrive late. When this happens, your beautiful bouquet can seem like an afterthought rather than a caring gesture. Because of this, you should order your birthday bouquets in plenty of time. This might involve scheduling reminders on your phone. To avoid late deliveries and other issues, try to order your flowers at least one week in advance. Most flower delivery services will let you book delivery for a specific day well in advance. This means that you can schedule flowers to arrive on a loved one's birthday long before it arrives. This eliminates the chances of things going wrong last minute.
It is also worth double-checking where you are sending your flowers to. Ensure that your addresses are up to date and that your loved one will be in around the delivery time. If they are away, you can always delay your delivery for when they get back. The last thing you want is for them to come home to rotten flowers on the doorstep! Of course, you don't have to send flowers to their home address. Sending a bouquet to their work can be a nice surprise and brighten their day if they have to work.
Give Them Something to Stand in
If you are going to send someone flowers, they will want to display them somewhere. In that case, they'll need a vase. A lot of flower delivery services offer you the opportunity to send additional gifts with your bouquet. This might be chocolates and a card. It could also be a nice glass vase or ceramic jug. This can be a helpful touch, especially if someone receives more than one bunch of flowers for their birthday!
Find the Gift That Keeps on Giving
Getting one bunch of flowers is a real treat. That said, if you're looking for the perfect birthday present, you might want to organize a flower subscription. Signing your loved one up for a subscription means that they will receive a new bouquet on a schedule of your choosing. You could send them a bouquet each month or every couple of weeks. Each bouquet will be different from the one before so that they can enjoy a new look and you can have a say in what they receive. Most subscriptions last for one year, so if they enjoy it, you can keep renewing it as a birthday gift! This is a great way to make them feel loved all year round, not just on their birthday.
Send Your Loved Ones the Perfect Birthday Bouquet Today
As you can see, when it comes to sending the perfect birthday flowers, there are many things to think about. However, it is worth putting the time into this decision to make your birthday gifts extra special.

Ready to put together your birthday flower delivery? Then head over to our flower shop now to pick the perfect bouquet!


Keep reading 🔎

;